2019 Maserati Ghibli S Q4 Features and Specs
That classic Italian sports car from 1966 returns today in all its elegant glory. This year, the Maserati Ghibli still retains that passion for victory. Only this time around, you'll also get a modern luxury sedan with dream-like handling. However, while relaxing inside, don't forget that this Italian sedan possesses a motor built for the track. So, let's get to it and see what the 2019 Maserati Ghibli S Q4 has in store for you.
Performance Straight from the Racetrack
Sure, the 2019 Maserati Ghibli S Q4 is made with the finest Italian craftsmanship. But once you pop the hood and find the 3.0L V6 motor inside, you'll know this car means business when it comes to performance.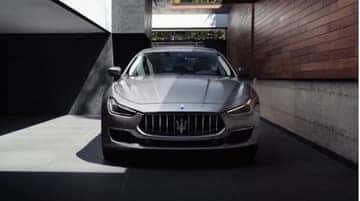 For starters, this engine produces 424 horsepower and 406 lb-ft torque. This all allows you to race from 0-60 in a rapid 4.7 seconds. In other words, there's plenty of fun awaiting you.
Don't forget to play around with the drive modes to find the style that fits you. Sport mode and Manual mode allow you to embed yourself in the ultimate race car experience when cruising highways. Meanwhile, I.C.E. (Increased Control and Efficiency) creates one of the smoothest rides you'll ever experience.
Lastly, Maserati has Intelligent AWD for all-whether safety and exceptional traction. Don't let any terrain or storm stop you from riding in luxury.
The Finest in Italian Craftsmanship Awaits You Inside
Step inside the Maserati Ghibli S Q4 for a sleek and luxurious suite aimed toward bringing you endless comfort for your drives.
For starters, you'll get 12-way power front seats to ensure you find the right spot for any commute. And speaking of the seats, they all contain hand-stitched details and that legendary Trident badge—it lets your passengers know they're riding in one of today's finest Italian luxury sedans.
To make your drives all the easier, the 2019 Maserati Ghibli S Q4 comes loaded with all the modern tech you'll ever need. Hands-free power trunk with kick sensors makes loading luggage or cargo of any type a breeze.
Meanwhile, the Maserati Touch Control Plus information screen gives you a full 8.4 inches to view your controls and load up your favorite apps. And speaking of apps, don't forget to sync with Apple CarPlay® or Android Auto™ for access to your music streaming and navigation apps.
Driver Assist Features to Make Your Drives Efficient and Safe.
This Italian luxury sedan is all about making your drives as easy and fun as possible. Front and rear parking sensors come standard. As the name implies, this feature assists you with parking into the tightest of spaces. You'll even hear a beep any time you begin to pull too close to any obstructions. If you're looking for stress-free drives, then this feature was made with you in mind.
Other driver-assist features include your typical forward collision warning with automatic braking and Adaptive Cruise Control to make your highway drives as relaxing as possible.
Come to Test Drive a 2019 Maserati Ghibli S Q4 at Maserati of Morris County today
Are you looking to get behind the wheel of a luxury race car?
Then stop by Maserati of Morris County today. A member of our team will be more than happy to set you up with a test drive. And if you enjoy the ride, ask about how you can drive home in this elegant cruiser today from your local Maserati dealership.