2019 Maserati GranTurismo MC Features and Specs
Continuing a 70-year tradition, the Maserati GranTurismo returns better than ever before. Back in the day, this car seamlessly blended a racetrack-worthy engine with a luxurious and elegant interior. Fast forward to today, and you'll find the trend only continues. So, if you're looking to blend style, luxury, and speed, then you've found the right car. Here's what awaits you inside the 2019 Maserati GranTurismo MC.
Italian Engineering at Its Finest
The Maserati GranTurismo MC is a car that's just as fast as it is beautiful. With a 4.7L V8 naturally aspirated motor, you'll cruise through traffic with ease.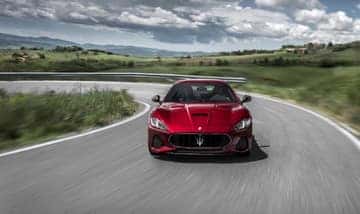 In fact, this motor puts out 454 hp and 384 lb-ft torque. Altogether, this allows for a 0-60 mph in a rapid 4.7 seconds. That's pushing acceleration you'd find at a racetrack. Just imagine how seamless you'll pass other drivers, merge onto highways, or cruise down the open roads with that power.
Additionally, the 2019 Maserati GranTurismo comes with a ZF 6-speed Auto Shift transmission. This alone allows for some seamless shifts and smooth drives for your next adventure.
Speaking of the drive, you'll have 5 different drive modes to fit your mood and style. These include Auto-Normal, Auto-Sport, Manual-Normal, Manual Sport, and I.C.E. (Increased Control and Efficiency). There's something for everyone here. Thus, give them all a try and find the drive that suits you best.
Premium Italian Design
Everything about this sports car exudes luxury and sleekness. On the outside, there's no denying that sporty and aggressive grille with a centered Trident will gain more than a few looks of admiration.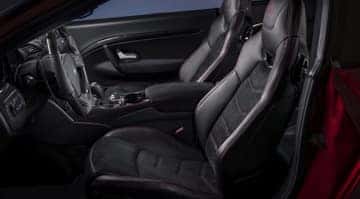 Step inside, and you'll get sport seats with leather or Alcantara. And you'll once again encounter that legendary Trident on each of the headrests. Even better is that each seat contains hand-stitched accents to create a premium and upscale quality to your luxury sports car.
You can even up the exotic feel of your Maserati GranTurismo MC with available wood, carbon fiber, and aluminum accents.
As far as tech goes, you'll get a massive Maserati Touch Control Plus 8.4-inch display. It sits in your center console for easy access. Plus, you'll even make use of Android Auto™ and Apple CarPlay® for your favorite navigation and music streaming apps.
For advanced comfort, you'll have dual-zone climate controls in the front seat. Plus, the dual rear vents ensure all your passengers enjoy the luxurious ride.
Safety Features and more
Speed, style, and luxury mean nothing if they're in a car that lacks safety features. Thankfully, you'll find plenty of advanced driver assist and safety tools inside the 2019 Maserati GranTurismo MC to keep your drives going for years to come.
The Adaptive Light Control provides as much illumination on the road as possible. These lights even turn with your car to ensure no corner feels like a blind cornering during evening drives.
You'll also get a Tire Pressure Monitoring System. This will send you an alert any time a tire is underinflated, allowing you to fix the issue immediately.
Test Drive the 2019 Maserati GranTurismo MC today at Maserati of Morris County
Ready to get behind the wheel of this suave sports car?
Then you'll want to visit your local Maserati Dealer in Morris County. Here, we can set you up with a test drive, so you can feel the luxury and power for yourself. And when you decide it's the right car for you, don't forget to ask how you can drive home in a 2019 Maserati GranTurismo MC today.