2019 Maserati Levante GTS features and specs
Luxury and performance never looked or felt so good. But now the 2019 Maserati Levante arrives with an ultra-powerful V8 engine. And who could argue with some sharp drives and an ultra-comfortable interior? It's the luxury SUV you want to drive, and your friends want to ride in. So, with that said, let's take a closer look at what awaits you inside the new 2019 Maserati Levante.
Not Your Standard SUV
Open the hood of the luxurious Maserati Levante and you'll find a 3.8L twin-turbocharged V8 resting inside. Overall, you're looking at 550 hp and 538 lb-ft torque. So, it goes without saying that this engine gets your SUV going—fast. Just how fast? Specifically, this ride races from 0-60 in a rapid 4 seconds. And with a top speed of 181 mph, few drivers can only dream of keeping up.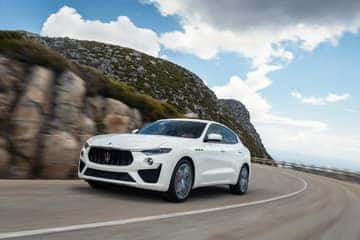 If that's not enough, you'll also get Q4 intelligent AWD system to help you navigate terrains in any season. Even sandy and icy roads are fair game here. Get ready for some fun drives and adventures. The 2019 Maserati Levante's more than ready to take you to your next destination.
Style Meets Luxury
It only takes one look to spot the unrivaled sleekness of this luxury SUV. Those 20-inch dark gray staggered Efesto alloy wheels bring some instant suaveness to the Maserati Levante GTS's design. Meanwhile, that chrome-framed grille perfectly displays that Maserati trident badge. And if that's not enough, the sporty and low front fascia and rear bumper are sure to turn more than a few heads when driving down the highways.
Step inside this high-performance SUV and you'll find a suite ready to grant you unrivaled comfort. Combat any seasonal commute with the heated and ventilated front seats. And for bonus style points, each full-grain leather seat comes with that undeniable trident logo—reminding your passengers they're sitting inside a vehicle of pure quality.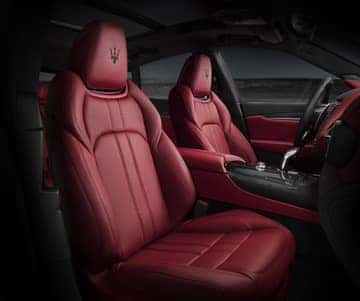 To make your drives all the easier, you'll control the new and improved gear lever. With shorter travel and better shift patterns, your 2019 Maserati Levante GTS will seamlessly glide down any highway. And if you feel like taking full control at any moment, simply enter manual mode. While you're at it, don't forget about the two aluminum paddle shifters waiting for your commands behind the wheel.
Test Drive Your 2019 Maserati Levante GTS Today at Maserati of Morris County
Are you ready to get behind the wheel of a Maserati SUV?
Then head to your local Maserati dealer in Whippany, NJ. There, you'll find the all-new 2019 Maserati Levante GTS waiting for you on our showroom floor. And while you're here, be sure to take this sleek SUV for a test drive. After all, it's not every day you'll find a luxury vehicle boasting this much raw power and comfort. Once you're finished, don't forget to ask how you can take home the 2019 Maserati Levante GTS today. This is the car that makes your daily commutes fun.