Maserati service center in Whippany, New Jersey
Are you looking for the best place to service your Maserati in New Jersey?
Then pay a visit to Maserati of Morris County. Whether you need maintenance, service, or repairs, our team specializes in keeping your Maserati running and looking as stellar as the day you drove off in it from our showroom floor. Here's a closer look at all the benefits of taking your Maserati to our service center.
Expert Service For Your Maserati
Our team of product specialists know how to treat your Maserati with care. In fact, Maserati of Morris County employs factory-trained technicians to make any repairs or conduct services to your luxury and sports cars.
We also deliver white glove care to your beautiful Maserati. Thus, you can expect your car to return to your care looking just as good (if not better) than the day you left it with us.
Services Offered
At Maserati of Morris County, we handle just about any service or maintenance that comes to mind. Whether it's a simple wiper blade replacement or precise transmission work, we're more than happy to help.
To give you an idea, here are some of the services Maserati of Morris County covers:
Oil changes
Coolant flush
Tire balance
Tire rotation
Front end alignment
Exhaust repair
Electrical work
Filter replacement
Routine maintenance (i.e. windshield wiper repair)
Vehicle check-ups
Vehicle inspections
Brake adjustments
Brake replacements
Maserati bodywork (with paint colors matching Maserati's standards)
And plenty more!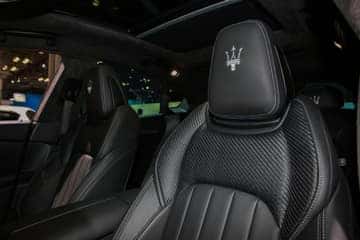 The above is just the start of the services our team is happy to provide. If you ever have any questions, give us a call or visit our dealership in Whippany, NJ. Our team of experts is waiting to assist.
Don't Forget to Check for the Best Maserati Service Specials and Deals
To get the best deals on your services, be sure to check our service specials page.
You'll find everything from bundle packages to discounts here. But if you see one you like, act fast. These specials constantly change and update. So, make sure you check in often as well. You never know when a great deal will pop up for your specific Maserati maintenance needs.
Schedule your Maserati Service Today from the Comfort of Your Home
Scheduling service with us is as easy as ever now. Simply visit our Schedule Service page. From there, fill in some contact details and let our service center know how we can help. Then select a time and date convenient for you and you've scheduled your appointment.
From there, you'll receive a response within 48 hours by one of our specialists. Let us know if there's anything else we can assist you with.
Or give us a call to schedule your Maserati's maintenance. Then bring your car to your local Maserati dealer in Whippany, NJ, and we'll complete the work promptly and on schedule.
For any further questions, feel free to give us a call or visit Maserati of Morris County. We're happy to help you with any concerns or inquiries.